Newtown Connection's mission is to create a level playing field
Newtown Connection's mission is to create a level playing field – providing kids of all backgrounds a safe place to learn new skills, build confidence, and enhance their aspirations through our Sports, Health & Education Programs.

In support of this mission we are pleased to announce that Newtown Connection has invested in the full renovation of the baseball batting cages at Newtown Estates Park. This provides the kids with a first class environment in which to hone their baseball skills, and sets as an example to the next generation of community leaders who embody the values of inclusivity, open-mindedness, and the importance of giving back.
Summer of Learning
When we began 3 years ago, Newtown Connection was serving just 60 children. This year we launched our 'Summer of Learning' program, and we are thrilled to say that our program served 140 kids. This program truly surpassed our expectations.
To see the kids so engaged in learning about the various facets of medical science through the 'Little Medical School,' coupled with the joy of learning to ride a bike safely and effectively under the supervision of cycling professionals and law enforcement, has made a tremendous impact on all of us at Newtown Connection. Given the huge success of this summer program, we want to continue to enhance the level of Academic Enrichment Programming that we offer at Newtown Connection.
CLICK HERE TO WATCH OUR 2023 'SUMMER OF LEARNING' VIDEO
Summer of Learning
This past week saw the start of the Newtown Connection 'Summer of Learning' program that will run for 6 weeks throughout the summer.
This program provides the kids at Newtown Estates Park with the opportunity to participate in a Bike Rodeo where Sarasota Police Officers, Community Action Team and local cycling professionals helped the kids get fitted for safety helmets, taught basic bike handling skills and learned the rules of the road. Upon completion of the program each kid received a new bike and a lock 
In addition, we hosted a Little Medical School where the kids will learn about what it takes to be a Doctor, Nurse and Veterinarian. We would like to thank our partners at the Boys & Girls Clubs of Sarasota and DeSoto Counties for their support and to the Gulf Coast Community Foundation and their donors for making this 'Summer of Learning' a reality and bringing joy to over 140 kids 
Book Buzz!
Congratulations to our Book Buzz Program participants! This program focuses on developing and increasing student reading skills using technology. Ten students achieved outcomes being awarded an Amazon Fire Tablet
Mid-Year Update – Fiscal 2023
Where does the time go? We cannot believe we launched Newtown
Connection in the middle of a pandemic, and now we are halfway
through our third year in operation.
Read more:
Newtown Connection Mid-Year Update

We were honored with the opportunity to stop by Emma E Booker Elementary and donate tablets to their students in Booker Boost! We hope these tablets will provide new educational opportunities and open new windows to success
Gulf Coast Community Foundation Upholds Academic Enrichment for Students
A retired, professional baseball player and businessman are making a difference in Newtown one child at a time.
Sarasota Magazine Read more here:
Newtown Connection Hustle Award
We are proud to announce this year's recipients of the Newtown Connection Hustle Award! Meet King and Trinity, two members of
#BGCSDC
who have endlessly shown their dedication to Newtown Connection and learning the sport of baseball. Throughout our program, we have seen King and Trinity progress as individuals and as leaders among their peers. Keep up the hustle
 A special thank you to
DICK'S Sporting Goods
for supporting the progress of King and Trinity, as well as the Rays Baseball Foundation and
Tampa Bay Rays
for supporting our baseball and academic enrichment programs
Thank you!
Our team met with
Gulf Coast Community Foundation
members Jennifer and Kameron on the fields of
#NewtownEstatesPark
while the kids were participating in our Sports & Academics Program
From our organization to yours, we appreciate you taking a sincere interest in our program
Vacation is OVER / School is HERE / Newtown Connection is BACK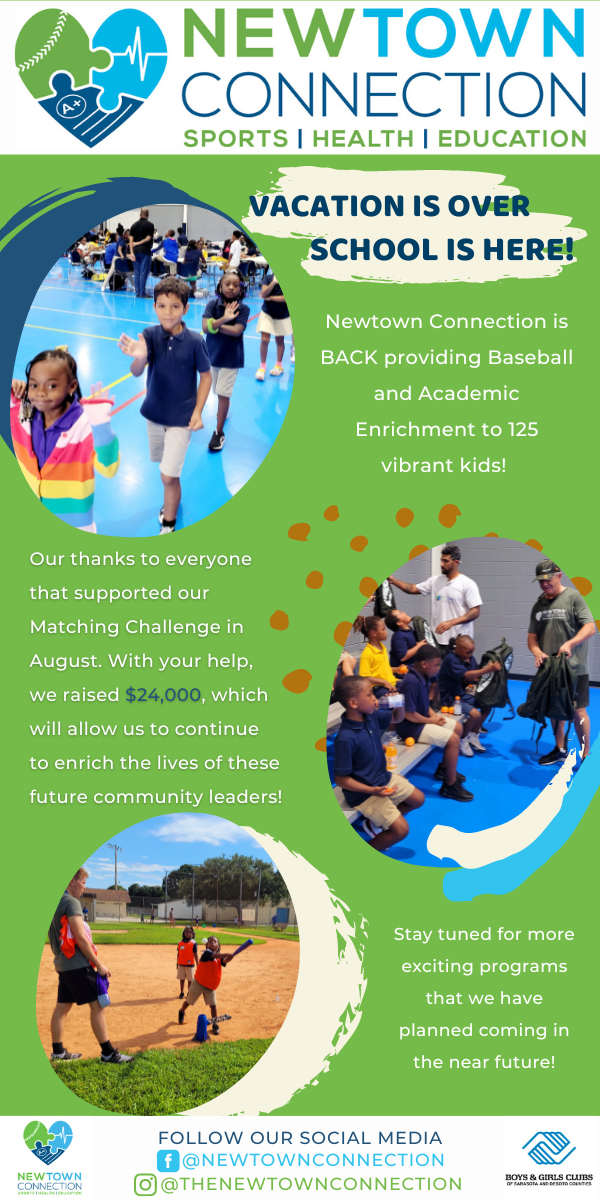 To our friends, family and supporters of Newtown Connection,
We are pleased to announce the launch of our Inaugural Matching Challenge where combined donations up to $50,000 will be matched!
Read More: Newtown Connection Matching Challenge 2022
Plus check out our latest video which is a profile of an aspiring leader from the Newtown Community, Tyre Smith.
Summer Program Batting Practice
The Newtown Connection Sports Program was in FULL SWING today as the kids spent time in the batting cage honing their skills.

There was extra motivation to swing for the fences as Coach Ian had to perform push-ups each time one of the kids hit a clean ball into the air. These kids know that every strike is bringing them closer to a home run !
Summer Program Midpoint Update
As we reach the midpoint of our summer program the sun is now shining bright on the manicured fields at Newtown Estates Park.
The kids are busy honing their baseball and athletic skills in anticipation of 'Game Time' as they approach the second half of our summer program. To help the kids remain fit and hydrated from their efforts our friends at PKF Mueller, Beth and Yuliya, kindly brought along some healthy snacks and drinks which were a welcome sight!
This week marked the start of our six-week summer program. 
We arrived early and you could feel heat rising over the ballpark.  
You could sense a buzz of excitement coming from inside the Boys & Girls Club. 
Then BOOM, the doors opened and smiling kids came running out into the sunshine where they were welcomed by the Newtown Connection Team. 
We began the day with a warm-up activity. Enthusiasm grew and the kids were primed for BASEBALL. "Not so fast" states Coach Ely. We need our 'word of the day'. We have chosen -SELF-RESPECT. The kids then provided various versions of the meaning of SELF-RESPECT. 
Next the ballpark gates opened and the summer program was in FULL SWING. 
After a great first workout the kids were all given a carry-blanket that was kindly donated by PKF Mueller who have supported our program from day one. The kids then cooled down sitting on their blankets in the Florida sun hydrating and eating snacks supplied by Newtown Connection.  
Academic Enrichment Program Launched

Through our partnership with the Sarasota Military Academy (SMA), we at Newtown Connection strive to honor those who serve and protect us every day.  This coming Memorial weekend, we remember all those who sacrificed their lives to protect our country and freedom.  
Recently, our program has added an Academic Enrichment Program, led by an Education Coordinator, who also teaches at SMA. She helps all participants with their homework assignments and enhances their academic skills.  We also have our SMA Military Cadets on-site to help ensure students are completing their homework assignments and fully comprehending their lessons. Our goal is to ensure kids are achieving grade-level benchmarks and are on track to advance to the next grade.  
It is our privilege to have teachers and students from a school like the Sarasota Military Academy influence our education program. 
Thank you to all those who have served and to those who will serve.  
Newtown Connection Coach Mentors Graduate

The Coach Mentors from the Sarasota Military Academy (SMA) have built quality relationships with the kids attending the Newtown Connection Program. They have made bonds that go deeper than just playing sports with them. The Coach Mentors have become people the kids look up to and aspire to be one day.
The kids and Coach Mentors share achievements and positive life skills like having a job, being active in sports, getting along with family members and planning for your future. The kids hear how the Coach Mentors plan on attending college or continuing education for a career. More importantly, they know the Coach Mentor's genuinely care about them which leaves the kids excited to see the Coach Mentor's at the program or outside in the community.
The Coach Mentors leave the program feeling fulfilled and happy knowing they are making an impact. They have kids showing them admiration and respect. As soon as the Coach Mentor's walk in the gym, the kids are calling their name and running up to them. This allows the Coach Mentor's to feel the impact they are making. They are able to feel what a difference they are making in their own community by seeing all the smiling faces of the kids.
The Coach Mentors have realized they are making an impact by being present with the kids and engaging in outside activities with them. They see how much the kids love playing and enjoy being around them. The Coach Mentors look forward to interacting with the kids and want to come back to volunteer. We have High School Seniors who no longer need community service hours but want to come back and help with the summer program because they love being with the kids attending Newtown Connection Program and making that positive impact.
Donor Spotlight – Ashby Foundation
Newtown Connection would like to thank the Ashby Foundation for their recent donation which was presented at Newtown Estates Park while the kids were actively participating in our Sports & Academic Program.
The Ashby Foundation was our very first donor back when Newtown Connection was laying down its roots in early 2021 and we value their continued support over the past year.
Newtown Connection – Announcement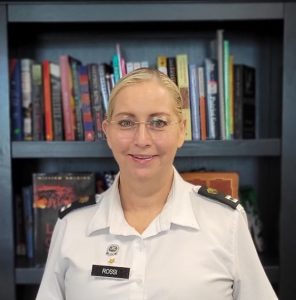 We are pleased to announce Lisa Rossi as the newest member of the Newtown Connection/Boys & Girls Clubs of Sarasota and DeSoto Counties team.  Lisa has the role of Education Coordinator.
Lisa holds two bachelor's degrees, one in Journalism from UMass Amherst and one in English Literature from USF, as well as a Master's degree in Public Relations and Business Communication from Emerson College.  She is currently working on her Master's in Teaching at USF. "Captain Rossi" is a teacher at the Sarasota Military Academy.  She is certified in English 6-12 and holds an endorsement for Reading K-12.  Lisa enjoys helping her Intensive Language Arts students hone their reading skills. She believes the ability to understand the written word, as well as write it coherently, are essential life skills needed by all persons in all fields of study and employment.
Newtown Connection focuses on the wellbeing of the entire individual and thus provides enrichment opportunities beyond just physical and mental wellbeing. Lisa will lead our Academic Enrichment Program to help all participants with their homework and studies and will be supported by Coach-Mentors. These Coach-Mentors are youth outreach members provided by the Sarasota Military Academy.
Our partnerships with the Boys & Girls Clubs of Sarasota and DeSoto Counties and the Sarasota Military Academy, coupled with focused training help to enhance the competence and abilities of coaches. This helps us maintain consistency in program messaging and promote a positive culture of inclusivity, encouragement and an overall positive experience and impact.
Please join us in welcoming Lisa to the Newtown Connection/BGCSDC team.
Newtown Connection Success Story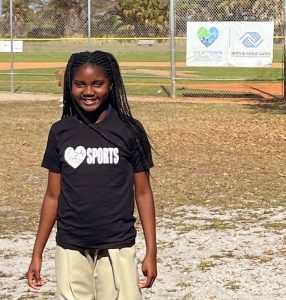 Sarasota, FL – March, 2022 – Nasriyah is a 7-year-old 1st grader and Club member at Newtown Estates Park Boys & Girls Club. Nasriyah participated in five different Newtown Connection programs in 2021. Before participating in the Newtown Connection program, Nasriyah had never played baseball before. During the program she learned the fundamentals of throwing, catching, hitting, fielding and running the bases. Beyond baseball drills and activities, she also got to participate in actual games. Through the program, Nasriyah's skills and self-confidence improved tremendously. She went from having never played and being uncertain of the game to now having just joined the 2022 Spring season of the local Miss Sarasota Softball league.
We are thrilled with the progress of Nasriyah. The direct objective of Newtown Connection is to provide programming that helps build the skills and talent of underserved youth and introduce them to sports they may not otherwise have the opportunity to play. However, another main objective of our program is showcased in this story and that is the personal enrichment and growth Nasriyah has experienced. Because of Newtown Connection, Nasriyah is much more confident and has discovered a love for sports. We hope this ignites a lifelong love for sports, teamwork, physical activity and overall wellbeing.

Former MLB Star Ian Desmond and Biz Pro Vince Northfield Help Underserved Youth
Sarasota, FL – January, 2022 – In June 2020, Ian Desmond, then a Colorado Rockies ballplayer and former Washington Nationals star, wrote a long emotional post on Instagram that he would be taking the season off. Covid-19, the killing of George Floyd and his own need for racial reckoning as a biracial man gave him a deep need to come back to his pregnant wife Chelsea and four young kids in his hometown of Sarasota. But more than that, he wanted to make a difference in the lives of young people, primarily minorities, in underserved communities through baseball.
Sarasota, FL – December 14, 2021 – Please find below a link to the latest video release from Newtown Connection
This video was produced to provide you with an overview of our program and how it has evolved over the past year. In the video you will hear (unscripted) from two of our partners, Boys & Girls Clubs of Sarasota and DeSoto Counties and the Sarasota Military Academy. More importantly, you will see the kids of Newtown in action thanks to your support.
We have come a long way in the past year using SPORTS as our base to establish our program. As we enter 2022, we will expand on the EDUCATION and HEALTH pillars of our overarching foundation providing the kids with enhanced support to complement what they already receive at school and at home.
Thank you for your on-going support and interest in our program, and for helping these kids have a brighter future.
Best wishes to you and your respective families for the holidays
Vince & Ian
SMA Cadets Volunteer to Empower Local Kids With Newtown Connection/Boys & Girls Clubs
Sarasota, FL – October 22, 2021 – A new sports program designed to help a diverse group of community youth has been set in motion. Sarasota Military Academy signed a Memorandum of Understanding with Boys & Girls Clubs of Sarasota and Desoto Counties/Newtown Connection to be Outreach Members for the Newtown Connection program.
Newtown Connection: Year One
New York Times Article
Ian Desmond detailing his decision to opt out of the 2020 baseball season and focus on family and giving back to the Sarasota community with his new foundation, Newtown Connection.
New York Times Article Ian Desmond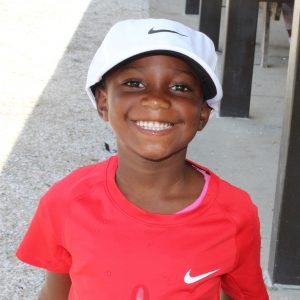 Ian Desmond explains his passion and vision for Newtown Connection, and how and why Newtown Connection was established. 
Ian Desmond Nominated for the prestigious Roberto Clements Award for the 5th Consecutive Season